Regular price
$ 99.00 USD
Regular price
Sale price
$ 99.00 USD
Unit price
per
Sale
Sold out
Tired of Financial Setbacks? Empower Your Wealth Journey with Black Sheconomics!
Welcome to "Black Sheconomics." Designed exclusively for driven women who've faced financial hurdles and seek to take control. With Dr. Boyce Watkins at the helm, this course offers a clear path to understanding money, navigating relationships, and building lasting financial confidence. It's time to turn those setbacks into setups for success.
Course Chapters Breakdown:
A Personal Introduction from Dr. Boyce Watkins: Launch your transformative journey with insights from a renowned financial strategist, paving the way for the lessons ahead.
Spotting Financial STDs: Navigate the landscape of hidden financial dangers. Learn how to identify and tackle them head-on before they take root.
The 4 Vices: Potential Threats to Financial Stability: Unearth the external pressures and habits that might silently be chipping away at your financial foundation.
Your Money Mindset: An Introspective Analysis: Dive deep into your personal financial psyche. What are your beliefs, fears, and aspirations related to money?
Five Economic Pitfalls to Evade: Decode the most common financial snares and acquire the strategies to dodge them with confidence.
The Real Cost of Unhealthy Relationships: Delve into the complex dance between love and finances. How do relationships, good or bad, impact your bottom line?
Why This Course?:
"Black Sheconomics" is more than just a course—it's a revolution for women who desire financial clarity and resilience. Exclusively addressing the challenges faced by black women, it's the beacon of financial empowerment you've been searching for.
Step into your power. Transform financial challenges into triumphs. Enroll in Black Sheconomics today.
About Us

Dr. Boyce Watkins has taught finance at the college level for 20 years, including The University of Kentucky, Indiana University, The University of Rochester, Syracuse University and The Ohio State University. He Started the Financial Literacy Store to address the financial educational needs and deficits that not only exist, but remain a plague within our community (The Black Community) today. Giving others the opportunity of obtaining collegiate level knowledge is our main mission, and we look forward to a future where every Black girl or boy will grow up with the financial fortitude to become successful members of our society, and a blessing to our community.
Contact Us

If You Have Any Issues With Your Order, Please Send An Email On Our Following Email Addresss. Please Include Your Order Number So Our Representatives Can Help You.

Support@TheBlackBusinessSchool.Com
View full details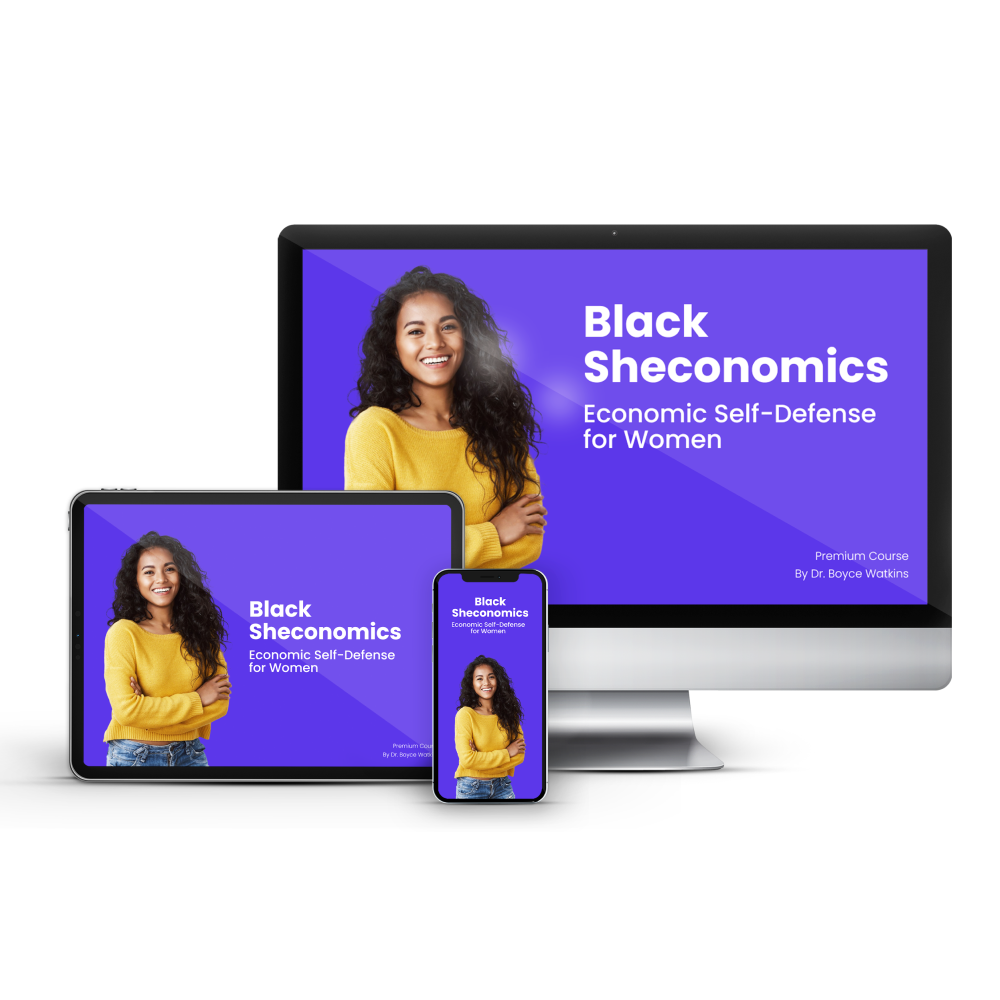 Educate

We must educate our own children and community

Create

We must create strong black business

Support

We must support the business that we create as a community